Maas Animation Nominated for Emmy Award
July 7, 2005 (updated September 19, 2005)
Daniel Maas, digital artist and founder of 3D graphics studio Maas Digital LLC, has been nominated to the 26th Annual News and Documentary Emmy Awards by the National Television Academy.
Maas was nominated in the Graphic and Artistic Design category for his computer graphics work on Mars Dead or Alive, a PBS/NOVA television documentary. The program chronicles the journey of NASA's twin Mars Exploration Rovers Spirit and Opportunity. Dead or Alive also received a nomination for Best Science, Technology, and Nature Program.
Maas' dramatic, highly realistic computer animation illustrates the entire mission from rocket launch to landing on and exploring Mars.
Dead or Alive included portions of a ten-minute animation Maas created for NASA, plus six minutes of new animation designed specifically for the NOVA program.
During production Maas frequently consulted with Mars Rover Principal Investigator Steve Squyres to ensure that his animation was as scientifically accurate as possible.
Maas attended the Emmy awards presentations in New York City on September 19th. Although Dead or Alive did not win an Emmy, Maas considers the nomination a significant accomplishment, and hopes to return to the awards with future projects.
For more information:
Emmy awards press release
Mars Dead or Alive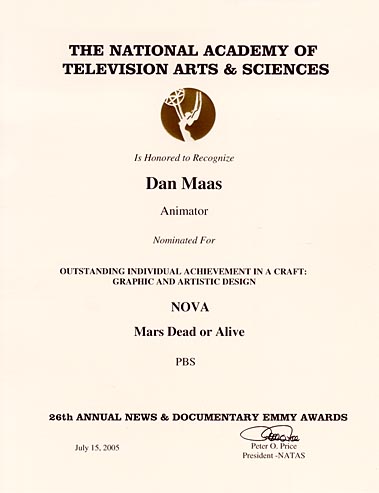 ---
Site © Maas Digital LLC 2016. All rights reserved. Contact Info